After celebrating the Gregorian New Year on January 1, 2023, we will soon celebrate the Lunar New Year, or Chinese New Year, on January 22, 2023. The upcoming year is also known as the Year of the Rabbit. Chinese New Year has many different traditions and rituals passed down from generation to generation. Usually, the grandest Lantern Festival is held on the fifteenth day of the first lunar month, which is the origin of our lantern festivals here in Europe.

A fresh start
One of the most important traditions during Chinese New Year is cleaning the house. This is done to wipe out the old year and start the new year with a fresh start. Special offerings are also made to the gods to ask for good luck and prosperity for the new year. Various symbols are also placed in the house, such as red lanterns and popping fireworks, to chase away evil spirits and protect the house.
The year of the rabbit
The year of the rabbit is a year in Chinese astrology, where each year is associated with an animal from the Chinese zodiac. The year of the rabbit is characterized by peacefulness and diplomacy and is seen as a time of harmony and peace. People born in the year of the rabbit are seen as friendly, peaceful, and wise.
A land of traditions and customs
China has incredibly beautiful traditions and customs. Indeed, another important tradition is that during the Chinese New Year, many gifts are exchanged between family, friends and other loved ones. The gifts usually come in the form of money, food or other symbols of wealth and prosperity. Special meals are also prepared during the Chinese New Year, such as dumplings and New Year biscuits, which are full of symbols of luck and prosperity.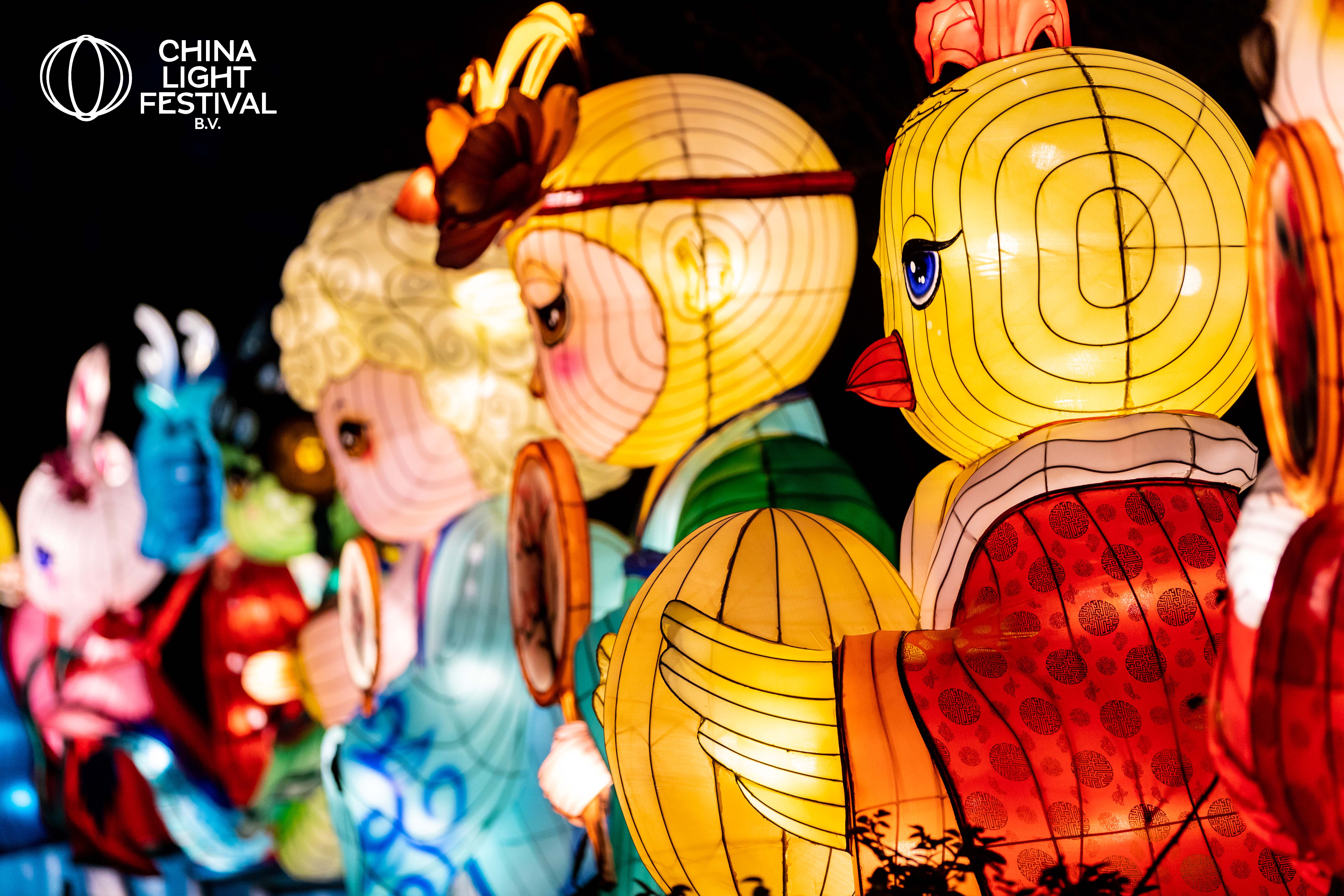 Festive, colorful and beautiful
Another important part of the Chinese New Year is the Chinese festival of lights, also known as the lantern festival. This is celebrated on the 15th day of the first month of the Chinese calendar, and it marks the end of the Chinese New Year. During the Chinese light festival, countless lanterns are hung and hung in the streets and the most beautiful creations pass by. The China Light Festival is a wonderful time to get together with family and friends and enjoy the beauty of illumination arts.
Most of our lantern artisans come from the Zigong region, Sichuan province. As an intangible cultural heritage in China, the Sichuan Zigong lantern festival started during the Tang dynasty (618 to 907 AD) and became popular during the Ming dynasty (1368 to 1644). Nowadays, this lantern festival is one of the largest and most popular festivals all over the world.
China Light Festival, together with all our artisans and colleagues all over the world, wish everyone a wonderful and happy New Year, with much prosperity and happiness. Use New Years' time to enjoy the various traditions and rituals.