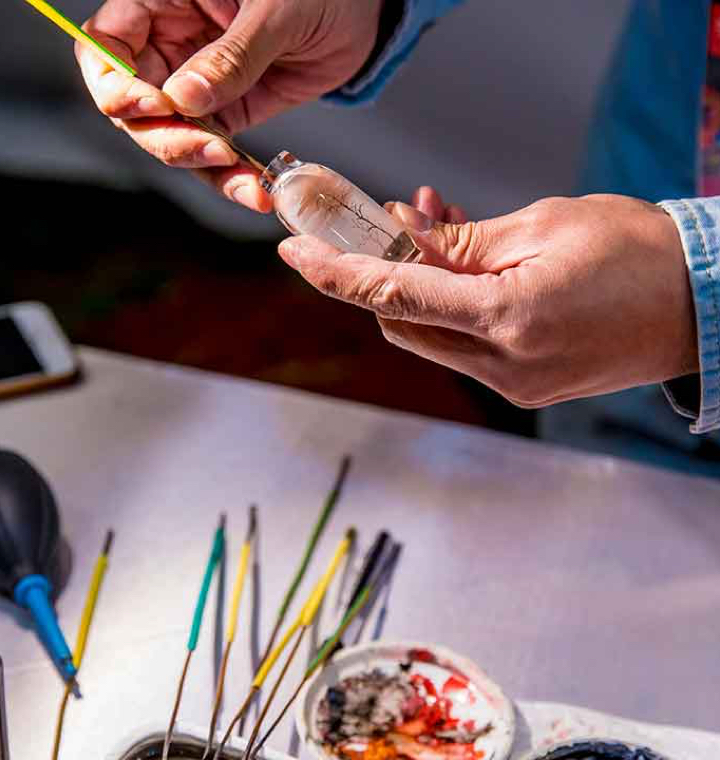 We offer traditional Chinese handicrafts at our lantern festivals and light shows. This is a cultural component that showcases the lifestyle and history of China's people. Some displays are unique to the lantern festival and can't be found elsewhere. Some of our traditional craft offerings include sugar painting, name painting, inner bottle painting, and calligraphy paintings. The ancient art of sugar painting includes painting opera figures, flowers, and animals with sugar. The end result is both edible and ornamental. Name painting combines calligraphy with vivid imagery. It looks like a painting but is actually a beautiful display of someone's name. Inner bottle painting, also known as painting snuff bottles, involves painting beautiful figures inside transparent glass bottles. Calligraphy painting uses colored pens to decorate traditional Chinese cultural elements like lanterns, paper fans, and umbrellas. All of these artistic processes are cultural experiences in their own right.
Tianyu offers demonstrations of arts and crafts that are rooted in the centuries-old artistic tradition of Chinese hand painting. Chinese painting is one of the oldest known art forms. Our traveling exhibits provide an experience that embodies the spirit and beauty of Chinese culture.
Chinese hand painting puts an emphasis on the motion and dynamic movement in life. Unlike a still life or a formal portrait, Chinese arts and crafts often depict characters or scenes that appear alive, in motion and frozen in time.
Traditional Chinese painting is done with a brush dipped in black ink or colored pigments and typically depicts landscapes or narrative subjects, while sugar painting uses only hot, liquid sugar to create flat or three-dimensional figures. These artistic pieces are both representational and ornamental works of art that can be used to decorate homes and offices, used as toys or treats for children, or can be purchased as gifts for others that may want to share in the Chinese cultural experience.
We offer artistic services and handcrafts including:
● Sugar Painting
● Name Painting
● Inside Painting
● Hand Drawing
Sugar Painting
Sugar Painting is a traditional Chinese folk art that uses hot, liquid sugar to create figurines that are both beautiful and edible. We use sugar painting to create festive items such as opera figures, animals and flowers.
Customers spin a wheel that depicts each artistic figure available, and then we create the art by drizzling hot sugar on to a flat surface and a wooden stick. Once dried, the end product is similar to a lollipop but in the shape of a beautiful figurine that is both a toy and a snack popular with children. They come in many different shapes and sizes, and edible dyes can be used to create details and colors that will excite the child in all of us.
Name Painting
Name painting is the art of using a person's name to create a work of art. It is a popular item to gift to children or adults as a keepsake. We combine calligraphy and images to create a beautiful artistic piece that can be used to display a name for the world to see.
With this Chinese art form, letters are drawn as characters or elements of nature such as animals, trees, kings and queens, or mythological figures like the dragon or phoenix. Sometimes only the first letter of each name depicts the art, and other times the entire name is drawn using artistic characters. In either approach we produce a work of art that creates a connection to Chinese culture using only vivid imagery and a name.
Inside Painting
The art of inside painting is truly unique, and originated in the early 19th century. The process was originally developed to decorate snuff bottles but is now used to create an ornament on any transparent material.
The process of inside painting requires a lot of skill, time and concentration. In order to create the desired effect, our artists have to paint an image backwards using a special brush that is inserted through the neck of the bottle. This painstaking process requires precise strokes and little room for error. Bottles can sometimes take days for simple calligraphy or weeks and months to create a detailed painting. The end result is a fantastic piece of art that captures attention and can be used to decorate any space.
Hand Drawing
Hand drawing is the process where we use colored pens to decorate traditional Chinese cultural elements. These may include lanterns, fans, and umbrellas, among other items.
In lanterns, we use hand drawings to create images and details that stand out once the lantern is illuminated and hung, set afloat or put to flight. We use hand drawing to create details, imagery and scenes of nature on fans and umbrellas once they are opened and in full view. Hand drawing is a great way to add beauty to both traditional Chinese elements as well as any personal decorative items.
These traditional Chinese arts and crafts are just some of the many cultural attractions you can enjoy when you attend one of our Chinese culture festivals. Check our Home page to find out about our upcoming events, or contact us online.